Project
Sculpture replica of one of the geniuses of Val-de-Grâce. This copy of Antique has been created from archive photos and made with a three-point compass. Subcontracting for the company Louis Geneste, in Paris as part of Heritage restoration.
Material
Limestone
Date of execution : 2018 – public commission
The many sculptures decorating the top of the Val-de-Grâce building in Paris had been gradually deteriorated by pollution, bad weather and the misdeeds of time since their creation in 1661.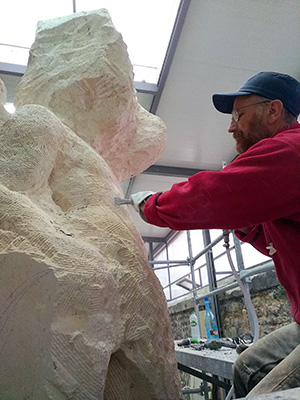 The sixteen geniuses, statues with a height of 3.50 m, were replicated identically by hand in a traditional way, according to archive photos.